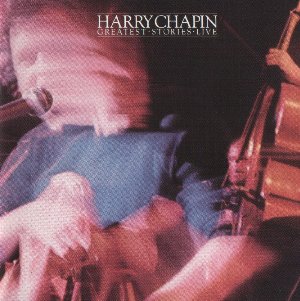 " ... I believe that my brother was a great man. But, unlike most other great men, his greatness did not come from diminishing those around him. He made himself great, in part, by finding the best in those around him. He made you feel important. There's been a lot of talk about 'How can we fill Harry's shoes?' The answer to that is that the challenge of Harry's life was NOT one of 'following in his footsteps' or 'filling his shoes'. The challenge is in filling our OWN shoes: We carry on Harry's work not just because we loved and admired him. We do so because it is the proper work of us all ..."
James Chapin, 1981
Harry Chapin - Short Stories
On these pages you will find a selection of articles on Harry Chapin and a range of photographs and related images that I have collected over the years. I have put together all the articles into one document [Microsoft Word 97] and, if you are interested, I am happy to email you some or all of the articles I have. Send me an e-mail and hopefully we can sort something out.

You will find my contact details below.

Drop me a line sometime.

Best wishes

Andy Langran
July 2005
Email

PLEASE NOTE: If anyone wants anything removed from this web site for copyright reasons, please let me know immediately and I shall act as requested.