Rainbow with Egg Underneath and an Elephant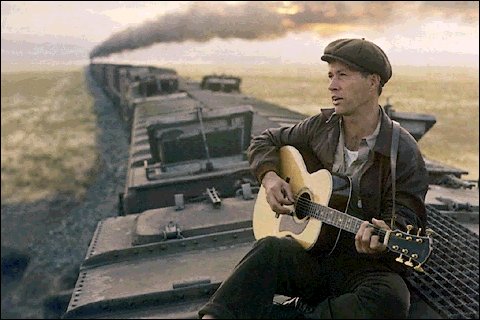 Bound For Glory
REVIEWS
Monthly Film Bulletin
*
Pauline Kael
*
New York Times
*
Audio Clips from Bound For Glory
BOUND FOR GLORY
U.S.A, 1976
Director: Hal Ashby
MONTHLY FILM BULLETIN
Volume 44, Nos. 516-527
by JAN DAWSON
Cert--A. dist/pc--United Artists. p--Robert F. Blumofe, Harold Levenmal. assoc.p/p manager--Charles Mulvehill. asst. d--Charles A. Myers, Catherine McCabe, James Bloom, William B. Venegas, Sally Dennison. sc--Robert Getchell. Based on the autobiography of Woody Guthrie. ph-- Haskell Wexler. Panavision. col--DeLuxe. sp. ph. effects--Albert Whitlock. ed--Robert C. Jones, Pembroke J. Herring. asst. ed--Don Zimmerman, Elayne Bretherton. p. designer--Michael Haller. a.d--William Sully, James H. Spencer, James L. Schoppe. set dec--James Berkey. sp. effects-- Sas Bedig m/m.d/m adaptation Leonard Rosenman. m.editors--George Brand, Joan Biel. m. co-ordination--Guthrie Thomas. orchestrations--Ralph Ferraro. songs--Woody Guthrie: "So Long, it's been good to know yuh", "Jesus Christ", "Taking It Easy", "Do Re Mi", "Pastures of Plenty", "This Land Is Your Land", "Better World" performed by David Carradine, "Hard Travelin'", "Howdido", "Union Maid" , "Deportee" performed by David Carradine, Ronny Cox, "Gypsy Davy" performed by Melinda Dillon, "This Train Is Bound for Glory" adapted by Woody Guthrie, "Oklahoma Hills" by Woody Guthrie, Jack Guthrie, "Roll on Columbia" words by Woodie Guthrie (music based on "Good-night Irene" by Huddie Ledbetter, John Lomax), all performed by David Carradine. Others: "Hobo's Lullaby" by Goebel Reeves, performed by David Carradine, Ronny Cox, "I'm in the Mood for Love" by Jimmy McHugh, Dorothy Fields, performed by Kip Addotta. Traditional folk Songs "Columbus Stockade" perforrned by Cara Corren, Susan Barnes, "Pie in the Sky" performed by Ronny Cox. Most of the following performed by David Carradine and/'or Ronny Cox (other singers Odetta, Arlo Guthrie, The Weavers, Country Joe McDonald, Judy Collins) Woody Guthrie: "Curly Headed Baby", "Talking Dust Bowl Blues", "Lonesome Valley", "Tom Joad", "Blowing Down the Dusty Old Road", "The Sinking of the Reuben James". Others: "California Water Tastes Like Cherry Wine" adapted by Guthrie Thomas, "Woody and Memphis Sue" by Robert Getchell, Guthrie Thomas. Traditional folk songs: "900 Miles", "Boil the Cabbage Down", "Ole Joe Clark", "Wreck of the Old Ninety-Seven", "Comin' Round the Mountain", "Down in the Valley". cost--William Theiss. titles--Depablo Title, Pacific Title. prod mixer--Donald E. Parker. sd consultant--Jeff Wexler. sd re-rec--Robert Knudson, Dan Wallin, Robert Glass. sd. effects editors--Frank Warner, Richard L. Oswald. stunt co-orditlator--Buddy Joe Hooker.
I.p--David Carradine (Woody Guthrie), Ronny Cox (Ozark Bule), Melinda Dillon (Mary Guthrie, Memphis Sue), Gail Strickland (Pauline) John Lehne (Locke), Ji-Tu Cumbuka (Slim Snedeger), Randy Quaid (Luther Johnson), Elizabeth Macey (Liz Johnson), Susan Vaill, Sarah Vaill (Gwen Guthrie), Alexandra Mock/ Kimberley Mock (Sue Guthrie), Miriam Byrd Nethery (Sick Woman), Jane Lambert and Jan Burrell (women), Lee McLaughlin (Heavy Chandler), Ted Gehring (Conners), Robert Sorrells (Charlie Guthrie), Guthrie Thomas (George Cuthrie), Wendy Schaal (Mary Jo Guthrie), Delos V. Smith Jnr. (Old Man Jenkins), David Clennon (Carl), Larry Luttrell (Hank), Beeson Carroll (Collister), Mary Kay Place (Sue Ann), Tani Phelps Guthrie (Donna Jo), James O'Connell (Jesse), Bruce Johnson (Barber/ Square Dance Caller), R. A. Rondell (Steve), James Jeter (Crippled Whitey), Cliff Pellow (Chief Railroad Guard), Tom Howard and Chuck Katzakian (Railroad Guards), Harry Holcombe (Minister), Evelyn Russell (Wife), M Emmett Walsh (Husband), Sondra Blake (Judy), Brian James (Truck Driver), James Lough and Tom Peters (Men at Border), Raymond Guth (Hobo), Buddy Joe Hooker (Man Shot off Train) James Hong (Owner of Chili Joint), Cara Corren and Susan Barnes (Singers at Migrant Camp), Bobby Bass (Head Goon), Harvey J. Newmark, Thomas J. Sauber and Lyle Ritz (Musicians), Johana deWinter and Gary Downey (Union Organisers), Jama Tegeler (Girl at Union Meeting), G. Marie Haller (Field School Teacher), Leanna Johnson Heath (Girl at Stream), Robert Ginty (Artichoke Picker), Tony Becker (Tough Boy on Train), Kip Addotta (Cocoanut Grove Singer), Burke Byrnes (Mr. Graham), Samantha Harper (Amy Martin), Will Geer (Voice for Woody Guthrie's final speech), Denny Arnold, Bobby Bass, Steve Boyum, Fred Brookfield, Jophery Brown, Chere Bryson. Dottie Catching, Steve Chambers, Gary Combs, Kerrie Cullen, Barry Davis, Gary Downey, Pete Dunn, David Ellis, Andy Epper, Gary Epper, Jeannie Epper, Stephanie Epper, Tony Epper, Al Geatano, Lenny Geer, Mickey Gilbert, Duffy Hambleton, Bill Hart, Lorie Hice, Marcia Holley, William Harrison Hooker, Hugh M. Hooker, Thomas J. Huff, Richard James, Taylor Leacher, Fred Lerner, Tom Lupo. Robert Orrison, Chuck Parkison Jnr., J. N. Roberts, Danny Rogers, R. A. Rondell, Alex Sharp, Tom Steele, Ron Stein, Steve Vandeman, Al Wyatt Snr., Al Wyatt Jnr. and Dick Ziker (Stunt People).
13,327 FT. 148 MINS.
In 1936, Pampa, Texas, is little more than a ghost town: the Depression, frequent dust storms and the encroachment of oil speculators have driven most inhabitants out of their jobs and homes to try their luck in California Woody Guthrie. one of those still there, earns occasional money painting signs or playing at neighbouring dances, but scarcely enough to support his wife Mary and their two children. Resisting suggestions that he look for a regular job, Woody one day leaves Mary a note announcing that he has gone West and will send for her. A combination of hitch-hiking, walking and hopping freight trains eventually brings to Los Angeles, penniless and exhausted. The experiences of journey - railroad posses shooting at hoboes, families turned back from California for want of an entry fee - have heightened a sense of social injustice, which finds further fuel in the treatment of the migrant crop pickers among whom he camps for his first night in the state. During his stay, the camp is visited by Ozark Bule, a local radio singer who is trying to provoke the farm workers to unionise. By the time his concert/rally has been violently disrupted by the growers' strong-arm men. Ozark has recognised Woody as a kindred spirit and superior musical talent. He gets him his own radio show, and Woody soon breaks off his affair with Pauline, wealthy young widow running a free soup kitchen, and sends for his family. Mary's delight at their relative affluence is soon set by her concern at Woody's political activities. Equally concerned are the programme's sponsors, who insist that he abstain from references to the agricultural workers' plight. Under pressure, Woody disappears for weeks to sing his protest songs to workers in the San Joaquin valley. He returns, badly , beaten, and after a quarrel Mary leaves him. Another quarrel, with radio producer, Locke, also loses him his job. A talent-spotting agent, Mr. Baker, offers him a national radio spot and a cabaret season at the Cocoanut Grove. But Woody, disgusted at the prospect of entertaining the rich in plush surroundings, abruptly hops aboard another freight train, heading for New York.
Hal Ashby's previous feature films have all described the graceful arc between inflated hope and crushing disappointment. All of them have, from the point of view of their central characters, ended badly. Forced back into the narrow ruts to which destiny and/or class system had consigned them, they found their misery considerably intensified by the illusory glimpses of human fellowship or selfless love afforded them along the way. Beau Bridges' ghetto fraterniser (The Landlord), Warren Beatty's hairdresser (Shampoo) and the young prisoner from The Last Detail all returned to zero considerably the worse for their experiences, though their rotten luck was thoroughly consistent with Ashby's observations of the society in which they had struggled to assert themselves. But in Bound for Glory, this fundamental cynicism is replaced by reverence; and the satire with a sad ending makes way for the musical tract designed to leave a lump in every throat. Basing their film on Woody Guthrie's autobiography, Ashby and his scriptwriter, Robert Getchell, steadfastly avoid separating themselves from their :subject matter. They offer us, faithfully enough, a folksinger's view of the Depression, without sufficiently taking into account that the heavy contrasts, gross simplifications and homespun emotions which, backed by a strong rhythm, can sustain any number of three-minute protest songs, need some variation if they are to sustain a film of epic proportions. Yet in all of their film's two-and-a-half hours, we meet only one have-not, with a mean streak in him (Crippled Whitey, a brawling hobo who terrorises the box cars), and only one 'insider' with an ounce of human decency (Charming, discreet, and, above all, enigmatic, Gail Strickland's socialite widow is perhaps the only character about whom the film arouses more curiosity than it is prepared to satisfy.) Bound for Glory is equally faithful to Guthrie's account of himself as a just-folks folksinger - a hick-town boy with a stubborn streak whose singular virtue lies in remaining true to the values, interests and idiom of the people. David Carradine's extraordinary performance - with its slow-breaking smiles, stubborn silences and mumbled responses - is a masterly exercise in studied simplicity; yet its dominant note of winsome fecklessness, becomingly modest in an autobiography, seems an incongruous basis for an epic hero. His Woody is, throughout, more convincing as an impulsive follower than as a leader of men; and in their efforts to make him all too fallibly human, the film-makers risk reducing him to a minor character. It is Ozark Bule, admirably played by Ronny Cox, who brings a welcome gust of energy into the film in that historic meeting which is to change Woody's life and give him his vocation. One reason for the film's soft and rather unsatisfactory centre is that in their efforts to avoid the hagiographic affect of the concert film, the makers have tended to keep the songs themselves as minor parentheses to the central odyssey. Few of them are heard in their entirety: the melody line of "So Long it's been good to know yuh" intrudes discreetly on the soundtrack as Woody says a monosyllabic farewell to Pauline; more often, it's the process of composition rather than the finished product which the film describes. "Union Maid" is jotted down and roughly delivered to silence the hecklers at a difficult meeting: "Walkin' and Talkin" is spoken by Woody as an improvised attempt to take his mind off his aching feet. The real-life Guthrie is of enduring interest, first for his songs and second, for providing the prototype of the hobo-hippy. Yet the film is so immersed in its own present tense as to offer little perspective on the rambling man who will provide the model for Kerouac as much as for Dylan. His originality emerges only as a small-town eccentricity. What's left is a triumph for the production designer (Michael Haller): an exquisitely coherent recreation of the dustbowl Depression, and of an environment claustrophobic despite the wide open spaces - in which every dirt-engrained object seems caught up in an irresistible process of disintegration. Haskell Wexler's lighting casts a kind of smoggy ochre stain over the film's eminently watchable first half, which is contrasted by the harsh white light of the scenes in California. As a lyrical portrait of an era, Bound for Glory works well enough. But its folk philosophy - effective as the basis for a visual contrasts and moral tableaux - increasingly infects the dialogue. By the time Woody justifies his weeks-long absence to his overwrought wife by explaining "I just had to touch the people a little bit, honey", one can't help wishing that Ashby the satirist had not been looking the other way.
back to the top



Bound for Glory
US (1976): Biography
Pauline Kael Review
147 min, Rated PG, Color, Available on videocassette and laserdisc
As the singer-composer-writer Woody Guthrie, David Carradine has an ornery intransigence that gives this Hal Ashby film a core, and the re-creation of the late 30s is superbly lighted and shot (by Haskell Wexler). The film has a feeling for detail—the matching profiles of two young Baez-like sisters in a squatters' camp, Carradine's lived-in, seat-sprung pants. There's real love in Ashby's staging of the incidents, and a unifying romanticism. Though the story doesn't build dramatically—it straggles just when you want it to soar and it bogs down in backward and forward movement and it's filled in with woozy generalities—this is an absorbing and impressive piece of work. With Melinda Dillon as Mary Guthrie and also as Memphis Sue, and Lee McLaughlin as the fat man who has newsreels going in his head. Ashby deploys huge numbers of extras—900 were used in the camp sequences, and nobody looks anachronistic—yet two of the principals stick out every time they turn up. As a singer-organizer who recruits Guthrie to work for the union, Ronny Cox beams with a Scoutmaster's fervor, and as an all too symbolic member of the working masses, Randy Quaid is like a stock-company peasant. It's also regrettable that the tautness of Carradine's singing voice is betrayed by the Leonard Rosenman score, which uses conventional instrumentation on Woody Guthrie themes. The script, based on Guthrie's (highly readable) autobiography, is by Robert Getchell; however, Ashby and his editor, Robert C. Jones, wrote the explicit messagey material of the latter part. United Artists.
For a more extended discussion, see Pauline Kael's book When the Lights Go Down.
back to the top
The New York Times
SECTION: Section 2; Page 20; Column 1; Arts and Leisure Desk
LENGTH: 616 words
HEADLINE: VIDEO;
The Ballad of Woody Guthrie
BYLINE: By PETER M. NICHOLS
HAL ASHBY'S 1976 film biography of the militant singer-composer Woody Guthrie, "Bound for Glory," misses critics' four-star ranking by a fraction, which isn't bad for a film with some weaknesses to go along with its considerable strengths. Ashby, who died at age 59 in 1988 and whose credits include "Harold and Maude" (1971), "Shampoo" (1975) and "Being There" (1979), had a feeling for quirky characters. Guthrie, played with a lanky, languid grace by David Carradine, is more paragon than quirk, but the performance is strong and unusual enough to carry the film even when the narrative occasionally fails it.

Guthrie's funny, biting songs are another strength, of course, as are the film's look and atmosphere. "Bound for Glory" (MGM, 146 minutes, $24.98, PG) is one of those old movies that gets a substantial second wind from the clarity of DVD. The cinematographer Haskell Wexler, who won an Academy Award (the best-picture Oscar went to "Rocky" that year), gives the film a caramel, sun-blasted grittiness perfectly suited to Guthrie's travels in the 30's and 40's among migrant farm laborers streaming from the Southwest dust bowl to the California fruit ranches.

The film begins in Pampa, Tex., in 1936 with a towering dust storm riding in on 75-mile-an-hour winds. From that moment, no one gets the sand out of boots or the sweat and grime off faces or out of dresses and overalls. As the exodus rolls west toward the Pacific, Wexler's camera catches harsh beauty in the bleak, azure sky and the procession of vintage cars and trucks, festooned with great piles of furniture hung from every hook and knob.

Anxious faces speak of extreme stress, and in bedraggled camps, occasionally swept by growers' club-wielding goons, the newly arrived marshal their paltry belongings for new lives no more promising than the ones they have left. In their midst Guthrie begins to make a name for himself as an agitator and performer, touring the settlements and fields with an Ozark singer and labor organizer (Ronnie Cox) and getting into skull-cracking brawls with management men. Soon he is on the radio, but his stinging songs of protest bother his corporate sponsors to the point that he's told to limit his performing to toothless folk ditties. Instead, he walks out on a lucrative contract and returns to the fields.

From these roots emerges Guthrie the minstrel and voice against social injustice heard in songs like "A Mighty Hard Road." The Carradine portrayal makes him cool and magnetic, a man who can take a beating and still glide through his crises. People who knew Guthrie say that he kept a positive attitude no matter what befell him. "The one thing I can say about Woody, more than anything else, is that he loved living," says his manager in notes included with the disc. "Everything that could happen to a man happened to him and it's hard to believe but he was almost always happy."

In the film, though, there is something cold about the man. He may never have deserted the cause, but he did leave a wife and two children -- not once but twice -- to hop on a freight train, as his song says, bound for glory. So the calling was large, but where is the private Guthrie? Carradine's Woody has plenty of indomitability, but the smaller, telling moments that truly reveal a character seem oddly impersonal and contrived more in the service of legend.

But one can't fault the freight trains. Wexler's camera is at its best around box cars full of the brawling dispossessed swaying and clacking over the parched land under a broiling sky. Watching them one can't help feeling nostalgic for a time and place hauntingly American. It happened that way. The era lives.

back to the top